Each year from October through January, fourth-year medical students travel the country for their residency interviews. The Help Our Students Travel (HOST) program assists in offsetting these costs by matching traveling students with a alumni host who provides them with a place to stay during their interviews. Since 2014, the HOST program has been able to successfully match more than 75 percent of student requests because of alumni hosts like Eileen Rhee, MD'06.
Dr. Rhee is a Pediatrician at Seattle Children's Hospital, in the Division of Critical Care Medicine and the Palliative Care Program. We spoke with Dr. Rhee about her experience at the Pritzker School of Medicine and her participation in the HOST program.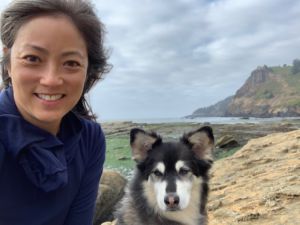 Tell us about your experience at Pritzker. How has that experience impacted you as a leader in medicine today?
What I remember most about my experience at Pritzker is being surrounded by so many impressively intelligent people, both in the students, staff, and faculty. I really admired my peers and knew that they were all going on to do good and important work. I think that the work ethic of always being inquisitive and the focus on caring for people with compassion and advocacy has stayed with me and guided my career choices over time.
You have been a volunteer with the HOST program since 2014. What motivated you to get involved and stay involved with the program?
It has been a great way to reconnect with the University and re-experience the value of my education and experience at Pritzker. I have met some really great students through the HOST program. They have impressed me with their poise, thoughtfulness, and kindness, and they reminded me how open and adventurous—and stressful—that time in one's life is. I hope I am helping to make a part of their taxing interview journey a little more manageable and enjoyable, and I am looking forward to hosting more students in the future.
Why do you think this program is beneficial to Pritzker students?
The HOST program works so well because there is mentorship embedded into the experience. It is also a wonderful way to experience a city, and I think it adds a level of ease into the interview preparation. I imagine that the HOST program is fun for students because when they meet us, the possibility of becoming a "real doctor" one day seems more tangible. When I was a medical student, it was hard for me to envision that stage in my future life.
What was your experience interviewing for residencies?
Since I was staying in Chicago, I only applied to six programs, and I only had to think about travel accommodations for one of them. When I think about students adding travel onto the interview process, I can only imagine the stress and organization that is involved to line up air travel and housing for multiple locations. Not only is it time-consuming, but it is so expensive.
What advice do you offer medical students interviewing today?
I always advocate for trusting your gut instinct and going to another institution at some point in your training/career path. I also reiterate that every interaction is a learning opportunity. Lifelong learning is continuous!
What skills or experiences at Pritzker helped prepare you for residency and your career?
One general experience that stands out for me is living in Hyde Park. In particular, I loved that I could walk or ride my bike to anywhere on campus, and the value that I found in being so close to work in order to maintain my work-life balance has stayed with me.
What advice do you have for today's Pritzker students and/or younger alumni who are just starting out in their careers, especially during their residency?
It will get better one day. Get as much sleep as you can. It is a choice and privilege to be in this work, but it's easy to lose sight of that perspective. Some years are really tough, but every year it should get a little better. And wherever you go—seek out a mentor or two, at least.