By Stephan Benzkofer
Rebecca Cerrato, MD'01, and A. Holly Johnson, MD'01, check an X-ray to verify the correct placement of implants during bilateral bunion surgery in September 2019 in Chengdu, China.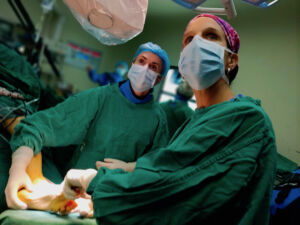 The orthopaedic surgeons, who were roommates during medical school, are both nationally renowned experts on minimally invasive surgical techniques. They were invited to the southwest Chinese city as part of a Sino-U.S. forum, during which they lectured and performed the surgery, which was broadcast to a nearby lecture hall and throughout China.
"The surgeons were very receptive and acknowl-edged how unique it was for them to learn from women surgeons," said Cerrato, now at the Institute for Foot and Ankle Reconstruction at Mercy Medical Center in Baltimore, where she is also the fellowship program director."
In all of China, only one foot and ankle orthopaedic specialist is a woman and very few orthopaedic surgeons are female," said Johnson, an assistant professor ofclinical orthopaedics at Weill Cornell and the Hospital for Special Surgery in New York City. "Having two female surgeons showcased on a live broadcast in front of the Chinese orthopaedic community was not only special, but incredibly empowering."
Article originally appeared in the spring 2020 Medicine on the Midway magazine.