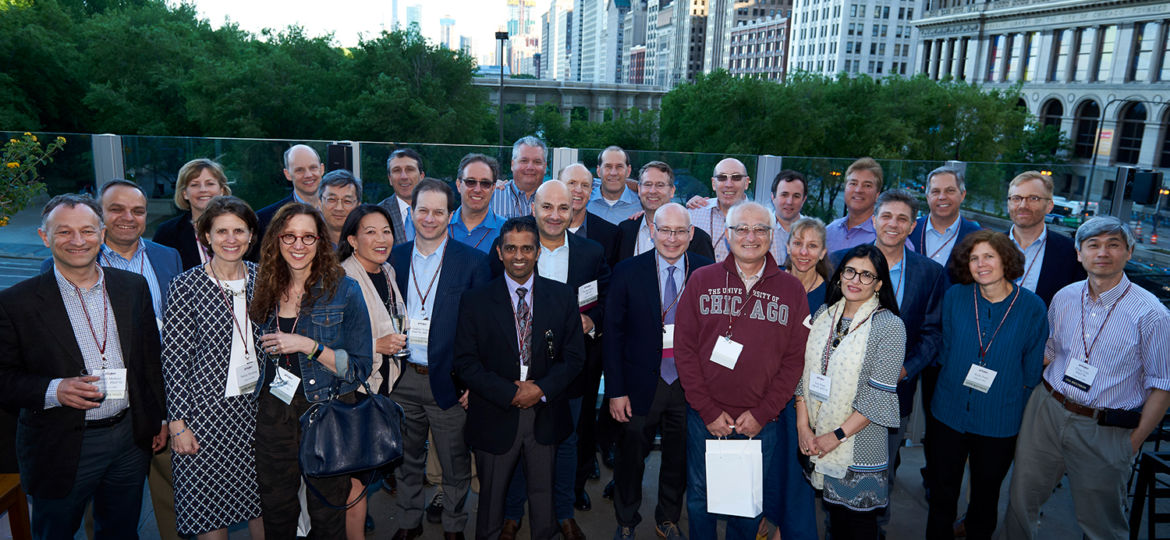 The annual Pritzker School of Medicine Reunion weekend invites medical alumni to reconnect with campus and classmates. The 2018 Pritzker Reunion weekend was a special celebration for the Class of 1993—it marked their 25th Reunion. Led by Reunion Class Chairs, Michael Boettcher, AB'89, MD'93, and Jonathan Katz, MD'93, the Class of 1993 set out to reach another milestone—to raise $100,000 and start a new, endowed scholarship at Pritzker.
"I, and many of my classmates, know firsthand the difficulty in financing a medical school education. So when the 25th Reunion was approaching, I felt our class was now in a position to commit to raising the revenue needed to create the scholarship and help ease some of the financial burden felt by medical students," Dr. Boettcher shares.
Drs. Boettcher and Katz began encouraging their classmates to attend Reunion weekend in June and participate in the scholarship campaign effort. Classmates were asked to support the Class of 1993 campaign even if they were unable to attend Reunion weekend. When the goal was within reach, the chairs began sending weekly emails praising their class's progress and rallying additional support.
"As people started seeing the idea of a scholarship turning into more of a reality, people really became committed to seeing it through," recalls Dr. Boettcher.
For Lydia Delaney-Sathy, MD'93, her personal experience inspired her to support her class's campaign. "The University of Chicago gave me a generous financial aid package that enabled me to attend Pritzker. I have always been grateful for that aid, and now that I am in a position to give back, it was an easy decision."
Yannick Grenier, MD'93, was inspired to support her class's campaign because of the effect it would have on future medical students. "This gift will help students by decreasing their financial burden at the time of practice and encourage them to pursue dreams that they may otherwise delay. I hope that the students feel a medical school community of support through the scholarship, a thread that they will hopefully feel is worthwhile."
The Class of 1993 raised more than $200,000, including funds received from the Legacy Challenge. While medical education and campus may have changed since the Class of 1993 graduated, the class's new scholarship will allow Pritzker to continue pursuing its mission of inspiring diverse students of exceptional promise to become leaders in medicine.
Dr. Boettcher hopes future recipients of the Class of 1993 Scholarship will experience the same special bond shared by his class. "We liked to have fun. All the old photos that people sent to me showed how much we enjoyed our time at Pritzker—and not just on Fridays at Liver Rounds. I will say that the personalities that I knew from 1989-93 were pretty much the same when they showed up at Reunion—same sincerity, same cynicism, love of life, and sense of humor. Our class has been able to stay genuine to ourselves, and I am very grateful for that because it really made Reunion fun."