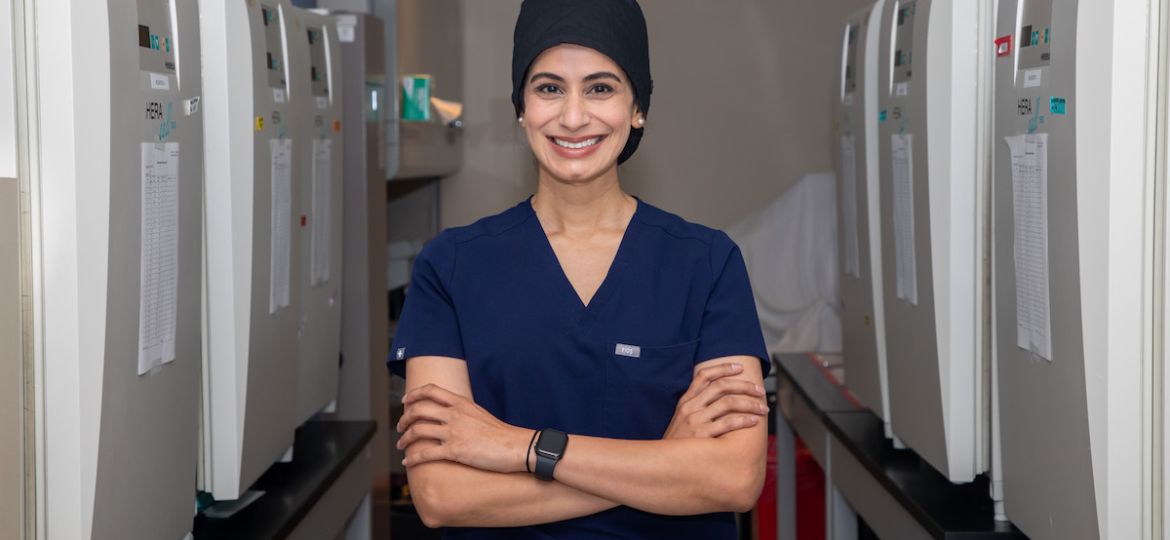 By Sarah Richards
Like all of us, Asima Ahmad, AB'04, MD'10, has a wish list. There are the small wishes, like hoping her fourth child — 11-month-old Yash — will finally start sleeping through the night. Then there are the bigger ones, like a future where all companies include comprehensive fertility coverage as part of their benefits plans for employees.
As the chief medical officer for Carrot Fertility, she's working hard to make the latter wish a reality.
"Fertility care should be the same as what we thought of vision and dental: They were add-ons before, but now they're the standard," said Ahmad.
Along with co-founder Tammy Sun, Ahmad started building the fertility healthcare company for employers and health plans in 2015. At the time, she was also a reproductive endocrinology and infertility fellow at the University of California, San Francisco. Balancing both duties meant scrambling from teaching sessions at UCSF to meetings in Mountain View with staff from Y Combinator, a tech startup accelerator.
Today in Chicago, Ahmad splits her time between overseeing Carrot's medical operations and working as a reproductive endocrinology and infertility specialist at Fertility Centers of Illinois.
Born in Faisalabad, Pakistan, but raised mostly in Chicago, she considers herself a "big rule follower" but admits to initially rebelling against expected career paths.
"Growing up, I knew so many people who'd gone into medicine and engineering," Ahmad recalled. "So for the longest time, I actually didn't want to do medicine."
She changed her mind during her undergraduate studies at the University of Chicago when she read lines from the Quran in her Islamic Civilizations class. In the fifth chapter, the Quran states that killing someone without justification is like killing all of humanity, while saving someone is like saving all of humanity. This put everything into perspective for Ahmad — that one life could have such an impact on so many others, and that one doctor could positively impact not just a patient, but their family or even their community.
This desire to maximize her impact stuck with her as she continued her studies at the Pritzker School of Medicine. It was one reason she completed her master's in public health at Harvard University in between her third and fourth year of medical school.
"I was always interested in women's health," explained Ahmad. "I wanted to know what things I could do on a bigger scale to have a bigger impact on women's health."
Fast-forward six years to the 2015 American Society for Reproductive Medicine meeting in Baltimore, where Ahmad and Sun sat next to one another in the audience at a session that focused mainly on effective, low-cost fertility treatments.
The two women shared their experiences — Sun, as a patient who'd struggled with the physical and financial challenges that come with freezing one's eggs, and Ahmad as a fertility doctor endeavoring to help stressed patients while dealing with endless insurance issues. That initial chat grew into meetings about ways they could improve patient outcomes and access to fertility care, as well as reduce bureaucracy, leading them to create a global fertility benefits platform that today works with more than 850 employers and health plans in more than 130 countries.
From its inception, Carrot Fertility has committed to helping everyone who wishes to build a family, regardless their age, race, income, gender, sex, sexual orientation, marital status or geography. In doing so, Carrot offers education, support and resources for a range of needs, including perimenopause, menopause and low testosterone. This is the sort of ambitious vision that led Entrepreneur to include Ahmad and Sun on its list of 100 Women of Influence in 2022.
"We are now covering millions of lives globally and I expect that number to rise," said Ahmad. "I've always wanted to do something that could have an impact on many lives. I'm able to do that with Carrot."