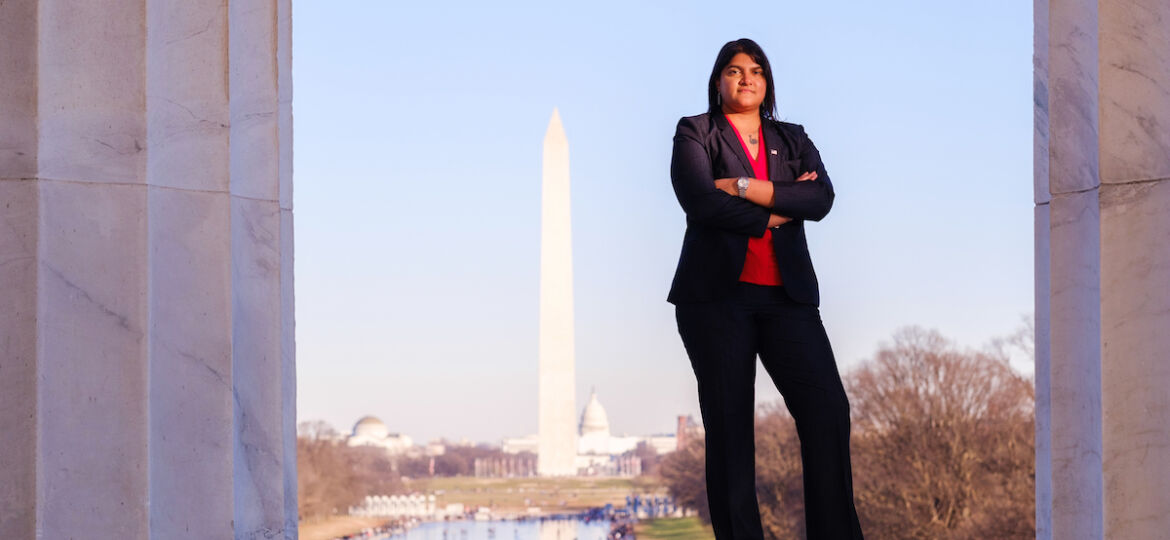 by Sarah Richards

Sapana Vora, PhD'14, calls herself an evangelist, even though her sermons aren't on religion. Instead, they're about the satisfaction and fulfillment science graduates can experience when they choose to work in science policy, a field blending both science and government.
"We think of PhDs and scientists as having a particular skill set that's only applicable for certain things," said Vora, who earned her doctorate in cancer biology and has worked as a senior policy advisor for the U.S. Department of Defense (DoD) since 2021. "What I've found is the training you get as a scientist sets you up to do a number of different things."
For Vora, that's analyzing potential biological weapons threats around the world for the DoD Cooperative Threat Reduction (CTR) Program Policy directorate. This work shapes how she provides strategic guidance to the Biological Threat Reduction Program (BTRP), a 25-year-old
undertaking by the DoD CTR Program to work with partner nations to prevent the proliferation of biological weapons.
Her expertise has taken on unique importance since Russia's invasion of Ukraine in February 2022. Shortly after the war began, online conspiracy theories spread that biological weapons were being developed in Ukrainian labs supported by the BTRP and other international entities.
In reality, the labs, which receive that international support to enhance their biosafety and biosecurity, are wholly owned and operated by Ukraine and conduct peaceful research on dangerous pathogens to improve the country's monitoring and control of infectious diseases.
"The program being maligned by the Russian government is actually the program I help to oversee," said Vora. To counter this narrative, Vora has been providing expert advice to her colleagues in the DoD and the U.S. Department of State, along with reviewing White House press materials and talking points for U.S. Ambassador to the United Nations Linda Thomas-Greenfield.
"It's a powerful experience to not just defend the work I love, but also reassure people it's worthwhile," said Vora. Vora, who is a triplet, was raised with her brother and sister in North Carolina and Texas. She was named to her first big post in Washington — deputy team chief of
the U.S. Department of State's Biosecurity Engagement Program — in 2017.
Although Washington is now home, Vora has kept up with her ties to the University of Chicago as a member of the Alumni Council and chair of the Chicago Partners Program. In Winter Quarter 2023, she taught a science policy mini-course for biosciences PhD students participating in myCHOICE, the same program that helped her explore a range of careers beyond the traditional university research track. "MyCHOICE took me on my first science policy trek to Washington and helped me get a fellowship with the National Academy of Sciences," said Vora. "It changed my life."
This story was originally published in Medicine on the Midway.