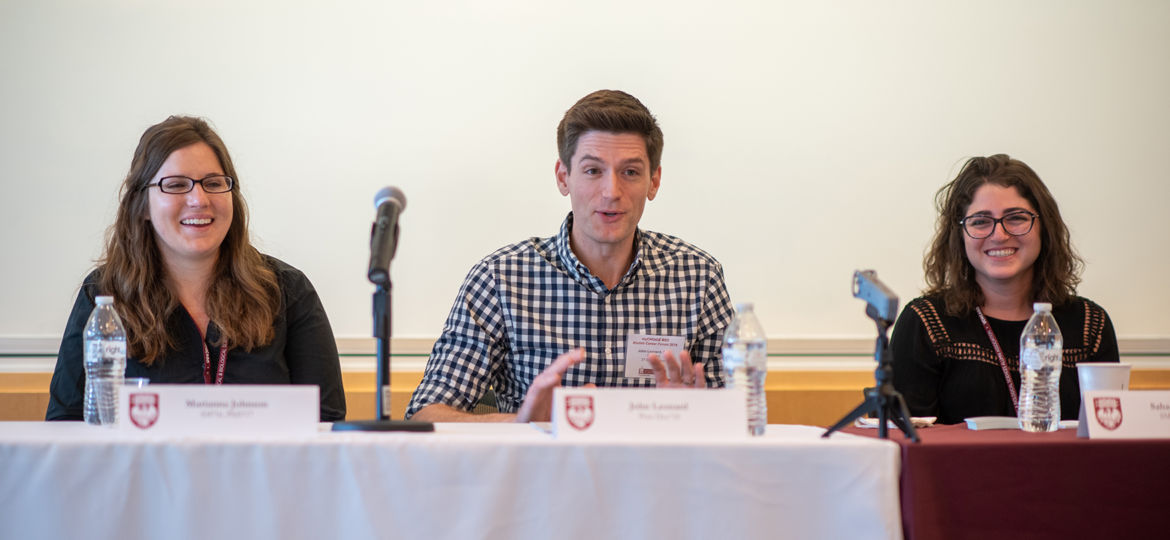 On September 21, 2019, more than 60 alumni and trainees participated in the myCHOICE BSD Alumni Career Forum, hosted by the UChicago MBSAA, myCHOICE, and UChicagoGRAD. Now in its sixth year, this day-long program of panel discussions and informational interviews gives graduate students and postdocs the opportunity to learn how alumni translated their research training into their chosen career path.
Crista Brawley, PhD (Postdoc'10), associate vice president, Rush University Medical Center; Ben Marcus, PhD'16, account supervisor, CG Life; and Paul Mungai, AB'86, PhD'12, foreign affairs officer, US Department of State; participated in this year's Career Forum and shared insights about their careers, training, and favorite spots on campus.
How does your PhD training give you a competitive advantage?
Crista Brawley, PhD: My PhD training gives me a competitive advantage because it has equipped me with various skill sets that no one can take away. These skill sets are completely transferable to the roles that I have obtained. Without my PhD training, I don't feel that I would be where I am at today.
Ben Marcus, PhD'16: First, in applying for jobs, the PhD on my resume tells people that I'm smart, driven, and self-motivating. PhDs prepare you to quickly digest complex information and create value out of it.
Paul Mungai, AB'86, PhD'12: PhD training for scientists teaches us to be discerning consumers of information (or as the University of Chicago likes to say, critical thinkers), to take large problems and break them up into their constitutive parts, and to analyze complex data sets and draw conclusions.
How did you choose your career path?
CB: Circumstance is what got me to my career path. I wouldn't say that I chose anything. I took the role that was best suited to me at the time, and then I made my path forward.
BM: In graduate school, I found I enjoyed talking about my research much more than I enjoyed performing it. I also developed a passion for communicating science to those who do not have access to a top-tier academic institution like the University of Chicago. I looked for jobs where I could communicate science to non-scientists, and I found a job listing for a content writing position at a marketing agency that specialized in the life sciences.
What is the best career advice that you have ever received?
CB: Taking a job is not a permanent decision. It is just one step of many that you will have to take to move forward.
BM: The work environment is very important. It doesn't matter how interesting the work is; if you are not happy in the environment you're in, you will not enjoy the work. When applying for a new job, take extra care to learn what the work culture is like to make sure you'd be a good fit.
What advice you would give yourself as a graduate student?
CB: Stay the course, and life gets better after this is over!
BM: Learn about your career options as soon as possible so you can find your passion and prepare for a job in your desired field before you graduate.
PM: Seek opportunities to speak and write—even if you hate to write and are terrified of public speaking—and in particular, opportunities to convey highly technical information to non-experts. You can only learn to speak effectively and write well through practice, so practice, practice, practice. Your ability to clearly and succinctly communicate complex information will be key to your success both inside and outside the academy. It will be worth the investment!
Quote that you live by?
CB: No bad days. (Meaning: every day is just another day. You can choose to make a good day or a bad day. You choose…).
PM: Better late than never. I began my PhD training relatively late (late thirties), and given that it is a years-long commitment, many friends worried about how old I would be by the time I finished. My view was that I would achieve that age whether or not I pursued the degree. I opted to continue aging with a PhD. Jokes aside, for some, certain possibilities become visible only with time. As a practical matter, age and the responsibilities that come with it can be limiting. However, don't let "I'm too old" be the only consideration standing in the way of achieving your goals.
Favorite spot on campus?
CB: UChicago campus quad.
BM: The Botany Pond on the quad. I enjoy watching the ducks and turtles.
PM: Bond Chapel is a beautiful, intimate space for quiet reflection.