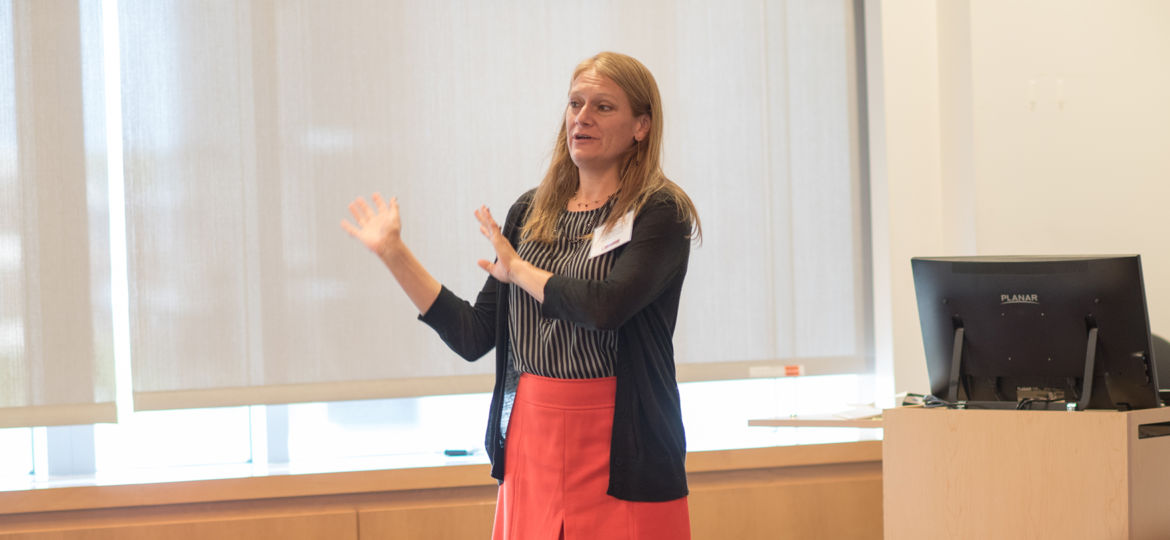 When alumni connect with the University of Chicago and the Medical & Biological Sciences Alumni Association (MBSAA) online, they never feel too far from campus. Alumni, like Abby Stayart, AB'97, PhD'12, use digital platforms like UChicago Wisr and social media to help stay connected to campus and other alumni.
Dr. Stayart is the director of myCHOICE, a professional development program based in the Division of the Biological Sciences (BSD) that exposes graduate students and postdocs to a variety of careers suitable for PhD-trained scientists. Since the program began five years ago, myCHOICE has engaged hundreds of alumni. Recently, the myCHOICE team partnered with UChicago Wisr to create an improved and customized solution that could host the myCHOICE Mentor Network.
Launched on February 25, 2019, the myCHOICE Mentor Network is a searchable resource for myCHOICE trainees to connect with alumni working in a field that interests them. Alumni create their own profile and choose the ways trainees can contact them.
How has UChicago's Wisr platform helped myCHOICE and the myCHOICE Mentor Network?
Abby Stayart, AB'97, PHD'12: We came to the UChicago Wisr team with a list of needs and they worked with us to make the Wisr platform meet –and exceed—our hopes for what the Network would look like. Wisr provided the critical infrastructure that we needed in order to launch the Mentor Network and make it an enjoyable experience on the front end for alumni and current trainees.
What has the feedback been about UChicago Wisr hosting the myCHOICE Mentor Network?
AS: Trainees understand that they are using myCHOICE to make connections with alumni. Until now this has been in person through seminars and site visits. This is the first time that trainees have the opportunity to connect in a digital searchable format. It empowers trainees to manage their career exploration on their own timeline and extends the important benefits of the myCHOICE program.
How does UChicago Wisr/myCHOICE Mentor Network keep alumni connected with campus, students, and/or other alumni?
AS: UChicago Wisr gives a specific way for BSD trainees to connect with alumni, but also is a great way for alumni to guide their own career exploration. Alumni can use Wisr to identify people from their cohort and colleagues working in their own or other careers to make connections they never knew existed. Because the Wisr myCHOICE Mentor Network is an opt-in group, a user is safe to presume a common interest and a willingness to connect, so it helps you bypass a cold call and take that first step toward building your network.
As an alumna, how do you keep connected with other alumni and the University?
AS: I primarily use LinkedIn, but my usage of it is primarily to establish a one-on-one connection—it's about individuals keeping in touch with individuals. Our hope is that the Mentor Network will become a community of like-minded individuals who share a very specific commonality—their interest in engaging with current and former trainees from the University of Chicago. Another way that Wisr distinguishes itself from LinkedIn is that it provides helpful advice on professional development, like tips on conducting informational interviews, and it has the added functionality of a make-an-appointment feature. It's really a great way to initiate an interaction with someone who you know to be interested in hearing from you.