Rene Mora, PhD'88, MD'89, started out on what seemed like a typical academic medicine career path until his career took a turn that surprised even him and led him to the world of finance and investment banking.
After completing his University of Chicago education, Dr. Mora moved to Boston to train in both internal medicine and pulmonary and critical care medicine. In 1995, he joined the faculty of Harvard Medical School and the staff of Beth Israel Deaconess Medical Center and Brigham and Women's Hospital, where he treated patients, conducted research, trained medical students and residents, and eventually became the director of a medical intensive care unit.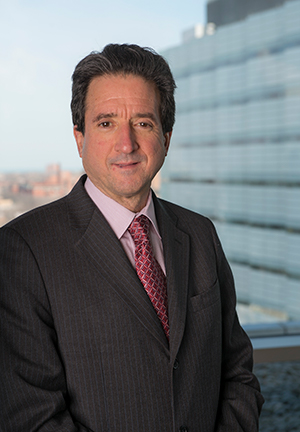 Around the same time, he became a consultant at Leerink Swann—an early stage investment firm focusing on the biomedical world. In 2000, he started working part time job with Leerink Swan and part time at the hospital.
"And then three years later, in 2003, it came to a point when I had to make a decision," he said. "I couldn't really continue to pursue both careers simultaneously, I had to choose one or the other. And much to my own surprise, I decided that I really enjoyed what I was doing on the financial side of the world."
Today, Dr. Mora works as a portfolio manager for healthcare at Monashee Investment Management. He credits his UChicago education for equipping him to make the shift from medicine to finance.
"I would say that the important element of my UChicago education was trying to develop the ability to think," said Dr. Mora. "To think on your feet, to be adaptable, to learn information and new skills, and to apply them to whatever situation you find yourself in. I think the fact that I've had such a wide variety of jobs bares out the value of that."
Today, Dr. Mora uses his unique experience to help students and trainees explore the breadth of opportunities available to them through myCHOICE—a program in the Division of the Biological Sciences (BSD) that connects PhD students and trainees with a network of mentors and opportunities that provide exposure to career options. Dr. Mora has served as a mentor and has hosted students for lunches and discussions at his company. He sees the myCHOICE program as valuable for both alumni participants and the trainees.
"I think that for the alumni, it's a very enjoyable way for them to get involved and for them to utilize their skills and their connections and experience to help current students," said Dr. Mora. He said that from the trainee point of view, "it's very important to get as broad a view as possible of what career opportunities are out there and what it really is like to work in different sectors, whether it's academia, or industry or government, or private foundations, or any one of a number of spheres."
Dr. Mora's involvement as an alumnus began in 2005 when he was invited to help put together a group focused on medicine and biological sciences in the Boston area. The Life Sciences Alumni Group started sponsoring events that would sometimes draw around 200 alumni.
The success of these events inspired Dr. Mora to continue his involvement with alumni activities, and he joined the Alumni Council of the University of Chicago Medical & Biological Sciences Alumni Association (UChicago MBSAA) in 2009, where he served as chair of the Alumni Awards Committee, vice president, and president.
"I think a highlight of our collective experience at the Alumni Council over the last few years has really been all about transforming the Alumni Council," Dr. Mora said of his experience. "When I first joined, it was a nice group of people, but it just wasn't a group that was particularly representative of the broader alumni community, in particular of the more recent alumni community," he said.
Mora and other Council members set out to diversify the membership of the Council. They recruited more women, people of color, younger alumni, and PhD graduates. They also added student representatives. Today, the makeup of the group much more closely reflects the diversity of the BSD and Pritzker alumni population in terms of gender, ethnicity, region, age, and areas of study.
"I think that there's a lot more energy and I think it's a much more dynamic group in terms of how it functions," said Mora.
In addition to his involvement with the UChicago MBSAA, Dr. Mora was elected to University of Chicago Alumni Board as its first BSD representative. Since joining, he has helped to make changes to the University Alumni Awards program.
"There has been a concerted effort to sort of energize the Alumni Awards process," he said. "To publicize it, to try to make it as inclusive as possible, to try get a broad range of alumni involved, and also to make the process as clear and transparent as possible."
Overall, Dr. Mora has found his experiences participating in various alumni activities to be extremely worthwhile, and would encourage other alumni to get involved.
"I think that if you want to get involved as an alumnus, there is almost certainly something out there for you that you will enjoy, that you'll find rewarding," he said. "Just look for the right thing that fits you and your life."