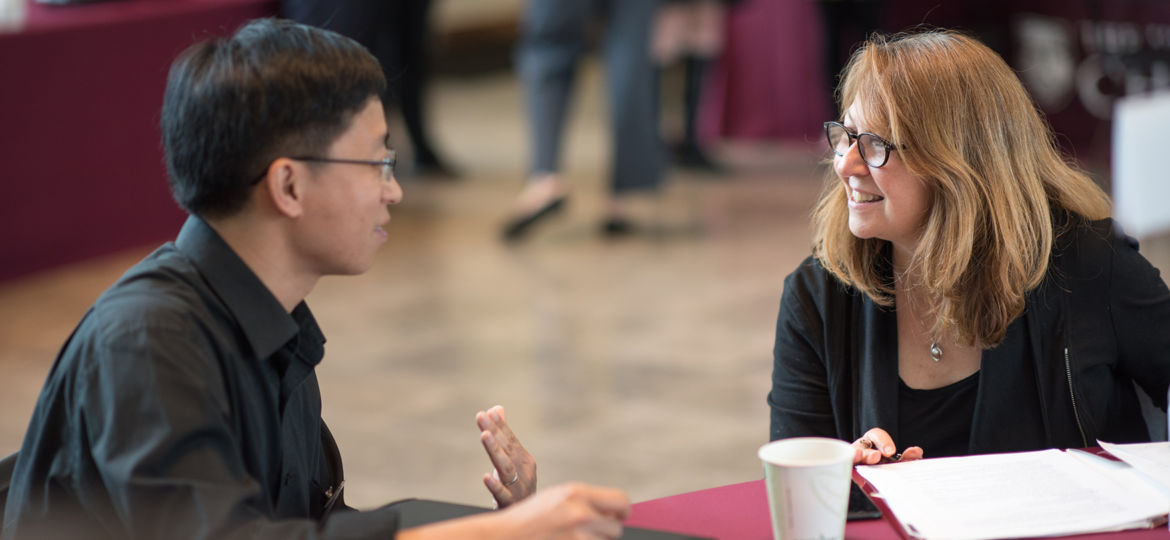 On May 20, the Medical and Biological Sciences Alumni Association, myCHOICE Career Program, and UChicagoGRAD, hosted the 4th annual myCHOICE BSD Alumni Career Forum. More than 50 graduate students and postdocs had the opportunity to connect with alumni to hear their insights on the process of translating a PhD from UChicago into a number of careers.
The day began with an alumni panel discussion on making a successful transition from research training into a career outside of academia. The panel included four BSD alumni who shared their decision-making process in identifying a position, leveraging their skills as a BSD alumni, and ultimately how they got the job. Following this, another group of alumni hosted a panel entitled, "What Employers Seek". The panelists, which included three BSD alumni and one Booth alumnus, all shared experience hiring many advanced degree scientists. The panelists shared their insights into what works and what to avoid when looking for your first job, discussing your research, and then further advancing your career.
After this, the group of students and alumni broke for a networking lunch. Tables were broken up for discussion about specific fields and featured an alumnus/a host in that respective field. Each table conducted an informal group discussion about their interests and the best ways to enter the field with their experience. The day concluded with one-on-one informational interviews conducted between students and BSD alumni.
Thank you to our 2017 myCHOICE BSD Alumni Career Forum Volunteers!
Klara Abravaya, PhD'88, Senior Director, R&D, Abbott Molecular
Alyssa Arata, PhD'12, Scientific Communications Supervisor, Weber Shandwick
Courtney Kagan Burrows, PhD'15, MBA Candidate, UChicago Booth School of Business
Mike Burrows, PhD'15, Healthcare Analyst, Aspire Capital
Jack Degner, PhD'12, Senior Scientist, AbbVie
Cathleen Dohrn, PhD'92, Senior Director, Strategy, Continuum Clinical
Wendy Havran, PhD'86, Professor and Associate Dean, The Scripps Research Institute
Carolyn Hollands, PhD'11, Senior Technical Support Scientist, Abbott Molecular
David Ijaz, AB'97, MBA'03, CEO, CFO, & Director, Effective Therapeutics, LLC & Complementum Therapeutics
Denise Lau, PhD'16, Computational Biologist, Tempus
Dan Leventhal, SM'13, PhD'15, Scientist II, Synlogic
Ben Marcus, PhD'16, Senior Account Representative, Public Relations, CG Life
Brittney (Manvilla) McClymonds, Postdoc'16, Senior Medical Writer, Abbott
Sao-Mai Nguyen-Mau, PhD'14, Associate Project Manager, Polsky Center for Entrepreneurship and Innovation
Ana Shulla-Mesi, Postdoc'16, Senior Scientist Technical Support, Abbott Diagnostics
Courtney Stepien, SM'12, PhD'16, Senior Associate, Blueprint Research Group