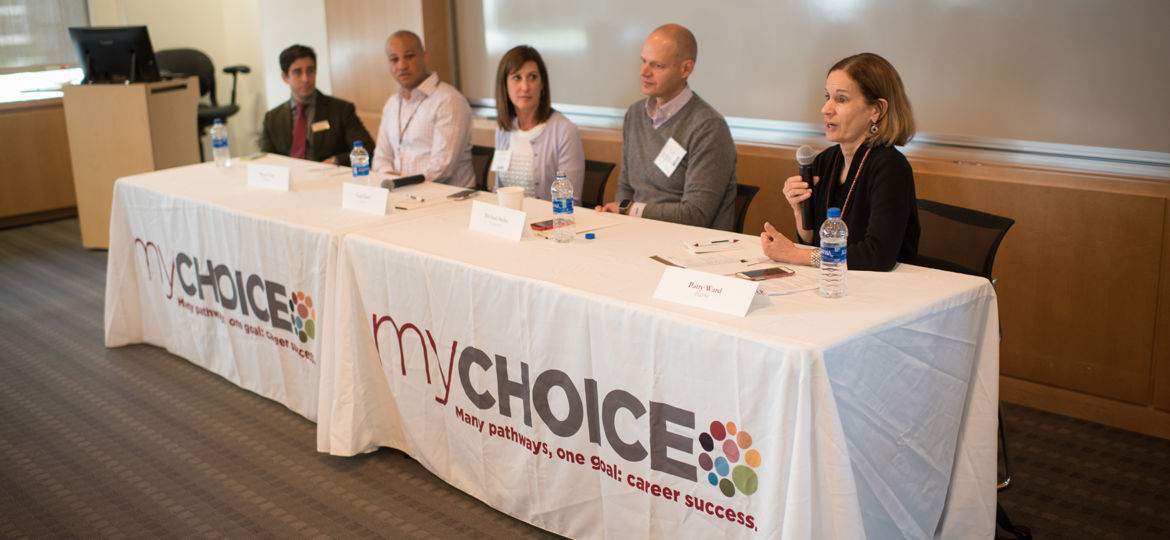 On September 15, the Medical and Biological Sciences Alumni Association, myCHOICE Career Program, and UChicagoGRAD, hosted the 5th annual myCHOICE BSD Alumni Career Forum. Graduate students and postdocs had the opportunity to connect with 23 alumni to hear their insights on the process of translating a PhD from UChicago into a number of careers.
The day began with an alumni panel discussion on making a successful transition from training at the BSD into positions in a variety of industries. Following this, another group of alumni hosted a panel entitled, "What Employers Seek." Alumni advised trainees on how to discuss their research, network, build experience, and market themselves to prospective employers.
Attendees broke for a networking lunch where alumni participants hosted tables organized by industry. An informal group discussion was held at each table about the interests of the trainees and the strategies to network into the lunch host's field.  The day concluded with one-on-one informational interviews conducted between students and BSD alumni.
The myCHOICE program, which began in 2014, exposes, educates, and provides BSD trainees with career options and experiences that leverage their strong biomedical research training. Approximately 83 percent of graduate students feel that myCHOICE is positively impacting their training experience. Alumni have been integral to the success of the myCHOICE program by supporting events, like the myCHOICE BSD Alumni Career Forum, and other myCHOICE opportunities.