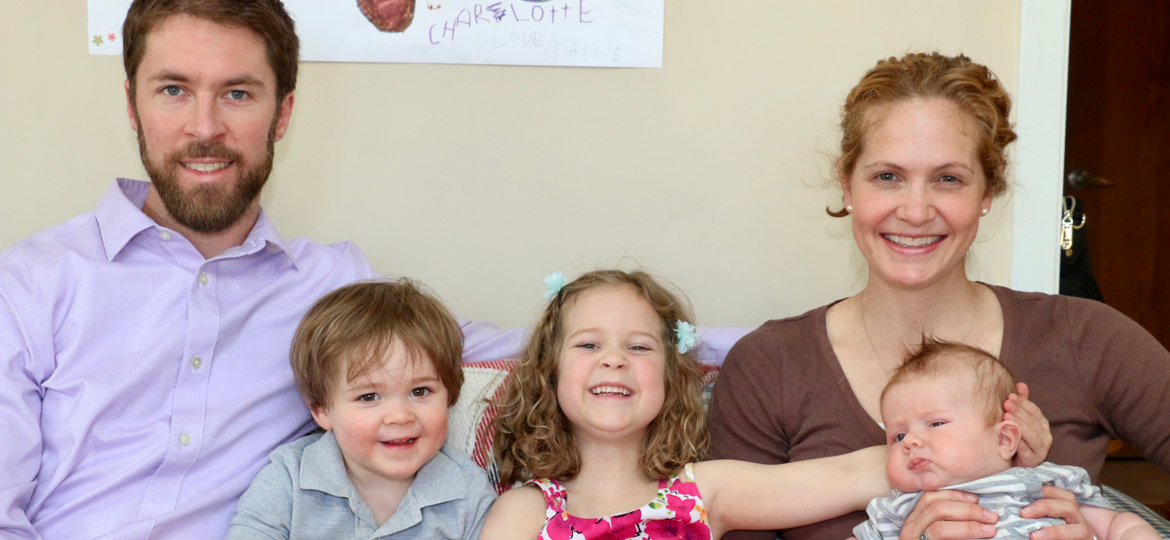 Mary Jo Bradley has a favorite story about her daughter Margaret. While competing in the state cross country meet during her senior year of high school, Margaret was running neck and neck with her rival, Jessica. Later in the race, Jessica stumbled and fell. Instead of continuing to run, Margaret stopped and reached down to help Jessica up. "Then, they just went on running together," Mary Jo said.
After high school, Margaret went on to attend the University of Chicago, where she double-majored in biology and earth sciences, played the violin in the University Symphony and Chamber Orchestras, and ran track and cross country. In 2003, she began her first year at the Pritzker School of Medicine.
Just after completing her first year in 2004, Margaret passed away from heat exhaustion while running in the Grand Canyon, after attempting to find help for an injured companion. To memorialize their daughter, Mary Jo and her husband, Keith, created the Margaret L. Bradley Scholarship Fund, an endowed fund to support Pritzker students. The scholarship is awarded each year to a first- or second-year student who values the same things Margaret did—music, athletics, the outdoors, education, leadership, and service.
In the 2008–2009 academic year, Margaret "Maggie" Nolan, MD'12, was the recipient of the Bradley Scholarship.
Although Nolan never had the opportunity to meet Margaret Bradley, she learned a lot about her from her parents and was moved by their generous spirit.
"It was incredibly meaningful to receive the Bradley Scholarship," Nolan said. "Like Margaret, I also ran track and cross country during college. It was amazing to have the Bradleys support me during my time as a Pritzker student and for them to recognize how grateful I was to be there."
Looking back on her time at Pritzker, Nolan recalls the welcoming environment.
"As a humanities major, Pritzker was the first place I visited where I could truly see myself as part of the community," she said. "My peers, as well as the faculty, were so inspiring. They weren't just medical students and physicians; they were musicians and artists and singers, too."
During her fourth year at Pritzker, Nolan, her classmate Rebecca Levine, MD'12, and Rama Jager, MD, MBA, started the Pritzker Poetry Contest, with the goal of recognizing and celebrating the humanistic side of medicine, while also fostering compassionate patient care.
"As a writer myself and someone interested in the humanities in medicine, it was like a dream come true," Nolan said. "I'm not sure I could've had that opportunity at many other places."
Today, the poetry contest is in its seventh year and remains popular among the UChicago Medicine community—thanks to ongoing financial support from Jager, who completed his ophthalmology residency at UChicago Medicine and has sponsored the contest since its inception.
Nolan and her husband, Matthew Nolan, MD'12, are now committed to providing scholarship support to help the next generation of Pritzker students.
"Matt and I have always prioritized giving to Pritzker because of the generous scholarship support that we both received as students there," Nolan said. "Beyond the financial support, when I think about the place that most contributed to my development as a physician—and the faculty who taught me what I use every single day—Pritzker always surfaces to the top."
The Nolans are also moved by Pritzker's commitment to diversity. After finishing medical school, Maggie trained in family medicine at Mayo Clinic for two years, and then began a clinical research fellowship in nicotine and tobacco. She is currently finishing a residency in general preventive medicine and public health, with a focus on health equity in the context of tobacco dependence treatment.
"I feel strongly that a diverse student body—in all respects, from ethnic to socioeconomic to geographic—enriches the entire academic experience," Nolan said. "The further along I get in my training, the more this value has been reinforced. Both Matt and I are passionate about providing scholarship opportunities for people who wouldn't otherwise be able to attend medical school."
Thanks to support from donors like the Bradleys and Nolans, approximately 80 percent of Pritzker students receive scholarship support. Furthermore, since its inception, the Margaret L. Bradley Scholarship Fund has grown, thanks to ongoing support from the family, classmates, faculty, and friends.
As Maggie notes, the connection she has with Margaret and the Bradley family goes much deeper than the two women sharing the same first name. It is rooted in a mutual commitment to helping others.
"I think Margaret would be amazed," Mary Jo said, "and humbled by the fact that exceptional people like Maggie are receiving a scholarship in her name."
If you would like to learn more about how you can support scholarships at UChicago, please contact Joe Ethington, director of Individual Giving, at 773-702-3055 or jrethington@mbsd.uchicago.edu.