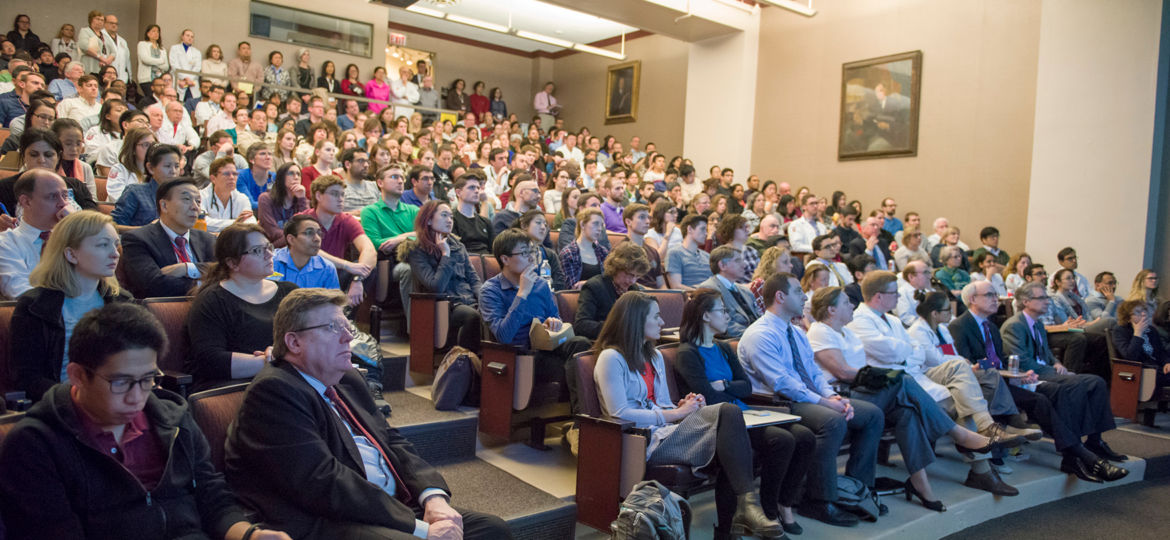 Billings Auditorium, a center of communal learning for students and faculty at the Pritzker School of Medicine, is not the newest, flashiest, or best-lit of the many large, tiered classrooms on the University of Chicago campus.
It is, however, revered as a venue for addressing some of the challenges that most affect human lives. How to strengthen the doctor-patient relationship. How to improve equity in the US health care system. How to reduce violence, increase reproductive justice, use technology for the good of our patients.
Billings Auditorium is an important gathering space for grand rounds, influential speakers, and the box lunches that keep one going on days packed with learning, teaching, patients, working one's hardest to become a better doctor.
Led by Julie (Lewczyk) Oyler, MD'01, associate professor of medicine at the University of Chicago, faculty and staff have been thinking about how to make Billings even more inspiring—not with new audio-visual equipment or cushier seating, but by expanding the photo subjects on its walls. The current portraits, represent UChicago Medicine's very early history. The Pritzker School of Medicine's mission has always been to inspire diverse students of exceptional promise to become leaders and innovators in science and medicine for the betterment of humanity. The goal of this campaign is to update the portraits in Billing Auditorium to ensure the rich history of leadership among our faculty and alumni is reflected to inspire today's Pritzker students, faculty, and staff.
So the Department of Medicine and Pediatrics Women's Committees are working to expand the Billings Auditorium's photo collection, adding more recent, diverse faculty who have left an indelible mark on the institution and medical science. Adding images of Janet Rowley, Jim Bowman, Elisabeth Kübler-Ross, Don Steiner, Ting-Wa Wong, Joe Kirsner, Edith Potter, and others, to those of people like Charles Huggins and Dallas Phemister will allow students to imagine themselves becoming part of UChicago Medicine history. Juxtaposed with portraits from the more distant past, the expansion of the photo collection will also show students and faculty alike that battles for inclusion, though sometimes hard-won, can indeed bend both the history and the future of medical science.
The group is asking for your help to raise $17,000 to make, frame, and hang the new portraits. Your support can help make this happen. Visit giving.uchicago.edu/billings-portraits to make a gift today.