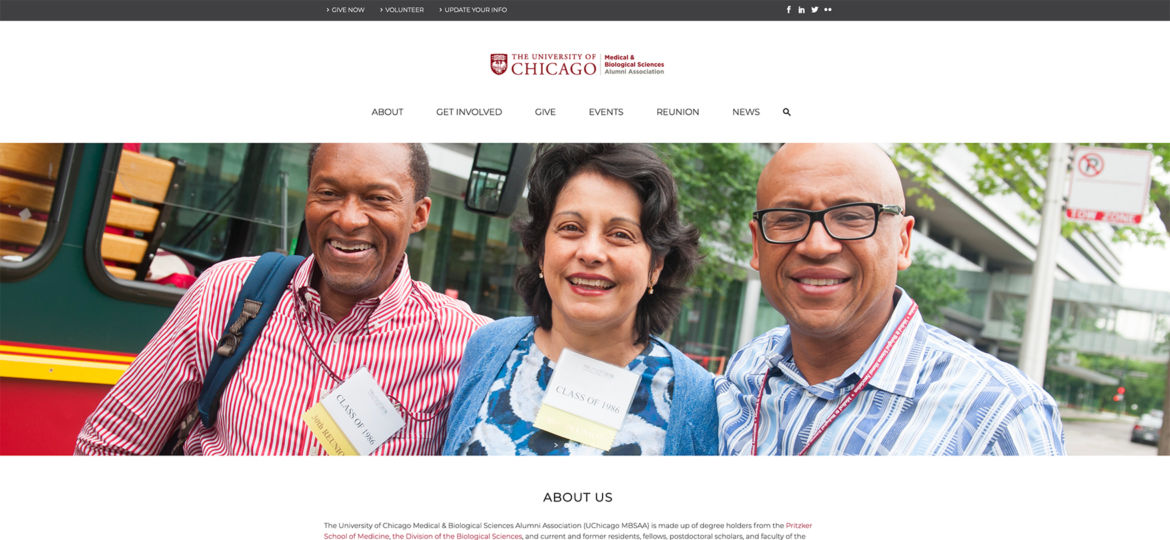 The University of Chicago Medical & Biological Sciences Alumni Association (UChicago MBSAA) is hitting the refresh button with the help of our alumni community!
Last summer, nearly 400 alumni participated in a survey about UChicago MBSAA marketing and communications. After assessing the survey feedback and gathering additional information from the Alumni Council—the volunteer leadership board of the UChicago MBSAA—we determined how alumni affiliate and view the UChicago MBSAA, the topics about which you would like us to communicate, and your preferred communication channels.
In addition to this feedback, every time alumni engaged during the University of Chicago Campaign: Inquiry and Impact by going, giving, helping, and connecting, you informed the UChicago MBSAA how we can better serve you and connect alumni with one another, the University, Pritzker, and the BSD.
As a result, the UChicago MBSAA spent over a year developing and implementing a new website that launched in September 2019. The new site is mobile responsive, easier for alumni to navigate, and introduces a refreshed look and feel.
The October 2019, Alumni Matters reveals a redesigned layout featuring content that most alumni expressed interest in receiving. The UChicago MBSAA staff is currently seeking feedback on the Medicine on the Midway magazine through a readership survey and will continue to roll out new and exciting ways for alumni to easily stay connected.
The UChicago MBSAA looks forward to hearing from you about these exciting changes. Let us know what you think at alumni@bsd.uchicago.edu!