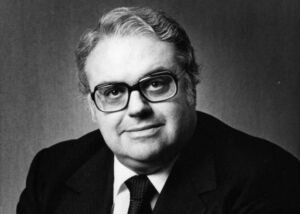 by Liz Edwards and Kate Dohner
In 2019, Jane Miller, LAB'77, established the Robert B. Uretz, PhD, Memorial Awards in memory of her father, Robert Uretz, SB'47, PhD'54, and his commitment to graduate education.
The awards, which provide financial support to incoming graduate students in the Division of the Biological Sciences at the University of Chicago, recognize talented students from backgrounds historically underrepresented in the sciences.
Miller and her family created the awards to help reduce students' financial burdens associated with relocating to Chicago and beginning their graduate studies.
"The award, particularly during these financially rough times, transitioning between cities, and during a pandemic, means the world to me," said Shalise Burch, an award recipient and graduate student in the Development, Regeneration and Stem Cell Biology program.
We spoke with Miller about her father, the importance of providing scholarship support for graduate education, and the impact of the support on students like Burch.
What inspired you to make this gift?
My father was devoted to UChicago. After completing his undergraduate studies at the College, he earned his PhD in biophysics, and then joined the faculty as an instructor, working his way up from an assistant professor to full professor to chairman of biophysics before becoming dean of the Division of the Biological Sciences and the Pritzker School of Medicine in 1977—a role he held for six years. He and my mother, Violet Fogle Uretz, SB'39, donated annually to the University, and I wanted to honor their memory and dedication.
Why is it important to you to provide financial assistance to students from backgrounds that are historically underrepresented in the sciences?
My father was a first-generation college student and the son of immigrants from Eastern Europe. Though neither of his parents completed high school, they were determined to provide educational opportunities for their children. After graduating from John Marshall Metropolitan High School in the East Garfield Park neighborhood of Chicago and enlisting in the US Army Air Force in World War II, my father was able to afford college because of the G.I. Bill.
I strongly believe that talent is distributed across all economic and cultural backgrounds, so it is important to offer opportunities for students who, without financial support, could not afford to pursue a graduate education.
As a professor at Rutgers University, I spent 10 years as faculty director of a social science research bootcamp for undergraduates from historically underrepresented groups. During that time, I learned about the insidious "small" things that made it more challenging for many of them to prepare for graduate school, such as expenses associated with GRE prep courses, training workshops, and conference travel. I observed that these financial barriers made it more challenging for students from historically underrepresented groups to make it through graduate school and to pursue research careers because they missed out on important networking and training opportunities.
 How have the awards impacted students?
The funds have helped students acclimate to their new graduate program instead of worrying about where to come up with money for basic needs. For example, one student was able to buy a desk that allowed her to work effectively from home during the pandemic and succeed in her virtual coursework. Another student was able to buy a new laptop when hers stopped working. I was also moved to hear about a student who said the funds helped provide a sense of stability for him and his family when their housing budget was tight.
What do you hope the awards will accomplish in the future?
I hope the awards will continue to foster a sense of belonging among students from all backgrounds. Several past award recipients expressed appreciation for the University's understanding of their financial situation and gratitude for helping to make their transition to graduate studies a smooth one.
I also hope the awards will continue to provide flexibility for students to choose how they spend the funds. Students have a range of needs, depending on their personal situations. For example, one student from a southern state used the funds to buy warmer clothing for Chicago's winters, while another purchased a bike for transportation.
---
Thanks to Miller's support, not only did graduate students at UChicago express feeling a greater sense of belonging, but they also looked to pay it forward by supporting other students in the future.
"It means so much to be welcomed to UChicago this way; the award communicates to me that I am not alone, that others in this community have faced financial struggles," said Gabriella Fox, graduate student in the Computational Neuroscience program. "It makes me want to one day do something similar for others."
Please consider making a gift to support students through the Robert B. Uretz, PhD, Memorial Fund here.