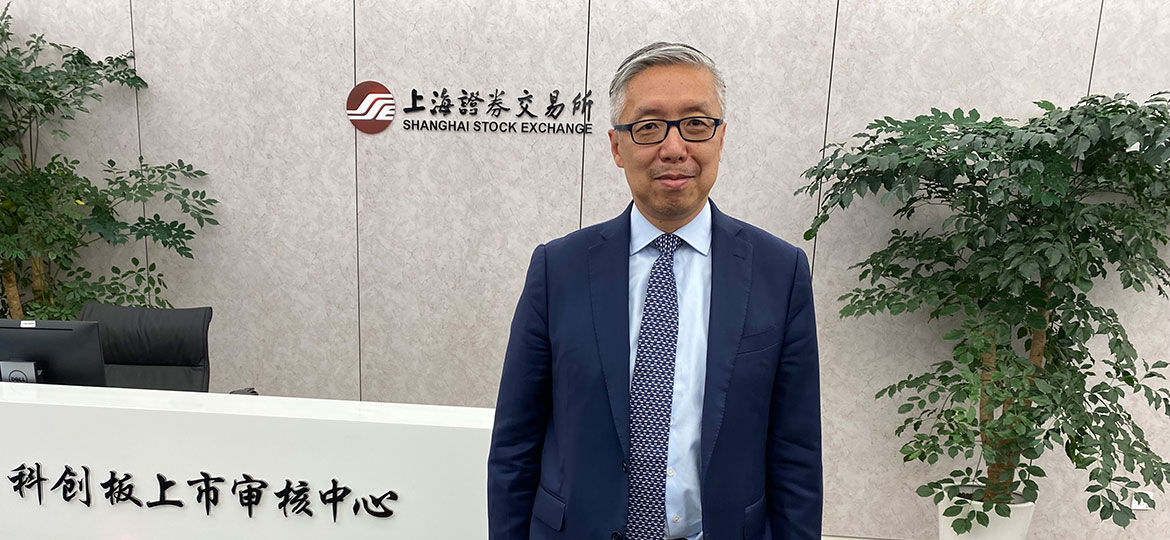 by Sarah Richards
Howard Liang's unconventional — but strategic — career path from scientistto Wall Street analyst to CFO
Howard Liang, PhD'92, MBA'01, smiles when he talks about picking out the office space and used furnishings for a biotech company's nascent bureau in the Boston area. It was 2015, and he'd just joined BeiGene, a firm that develops and manufactures cancer therapies. At the time, the company had a staff of under 200, all based in China.
"I was the first U.S. employee," said Liang, who joined BeiGene as Chief Financial Officer and Chief Strategy Officer. "My cellphone was the phone number that we used to register the company."
Today, BeiGene has more than 8,000 employees around the world and is best known for a portfolio of cancer therapies, including Brukinsa, a medicine for several blood cancers approved in 50 countries. During Liang's tenure, BeiGene set records in the largest primary equity financings fora biotech company. Itis the first healthcare company to be listed on three stock exchanges (New York, Hong Kong and Shanghai).
It would be easy to be swayed by Liang's down-to-earth manner and attribute his accomplishments to serendipity. That, however, would bely the industriousness and confidence that have propelled him through different professions, from scientist to Wall Street analyst to biotech CFO.
Liang's first trip to America was in 1986, when he arrived to study at the University of Chicago. He had a chemistry degree from a top Chinese university, $50 in his pocket and two bulging suitcases. He lived in International House and spent roughly five years studying biochemistry and molecular biology. That time was vital to building a methodical thought process, he said.
"I think a critical skill that was part of training at the University of Chicago was learning to be analytical — to be able to put pieces of information together, synthesize it and come to a conclusion."
After graduating with a PhD, Liang joined Abbott Laboratories as a scientist and worked on structure-based drug design. He published numerous studies in journals like Nature and Science, including research on the three-dimensional structure of theBcl-2 family of proteins involved in programmed cell death. That research formed the basis of drug discovery work at Abbott that led to the creation of an approved, targeted blood cancer therapy called Venclexta.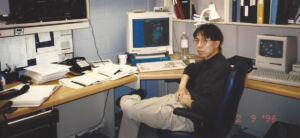 But Liang has always enjoyed new challenges. During his time at Abbott, he earned his MBA from the University of Chicago Booth School of Business. Then, at 36, he decided to switch jobs to work as a pharmaceutical equity research analyst.
"It may sound like a really strange move, but it's actually a pretty good fit in terms of the required analytical skills," explained Liang, who lives in Boston.
"You need to learn a lot about new companies, new scientific and clinical progress, and have that ability to put together information in a manner very similar as in science."
His work on Wall Street earned him several recognitions, including The Wall Street Journal's "Beston the Street" for his 2008 biotechnology stock picks and his 2010 biotechnology and pharmaceutical stock picks.
Liang is now President and Chief Financial Officer of Tessera Therapeutics, a gene editing company pioneering techniques to substitute, add and delete DNA to cure disease. He's hopeful these technologies will have broad applications for health, from genetic diseases to cancer and other serious, prevalent conditions.
"Being a scientist by training, I'm interested in new developments, new areas of breakthrough," Liang said. "Genetic medicine is a dramatically different way of treating disease, by correcting the root cause, and I am excited to be part of the endeavor."