by Rachel Mennies
Peter McCauley, MD'86, and his daughter Leslie McCauley—a rising second-year medical student at Pritzker—are making history. Their family's relationship with the University of Chicago spans three generations, beginning with Peter's mother, who earned a master's from the School of Social Sciences in 1960. But Peter and Leslie in particular are authoring a new chapter in Pritzker's narrative: they're one of the first Black father-daughter pairs to attend the medical school. "The historical connotation, it makes me very proud," Peter says. "My mother is deceased, but I know how proud she would be of her offspring and what we've been able to do. But it also just places the university solidly—not only as part of our history—in a special place in my heart."
For Peter, who currently serves as medical officer for Cigna, a path blending clinical and administrative healthcare work has shaped his life's relationship to medicine. After graduating from Pritzker in 1986, he credits his time as a pediatrics resident at Wyler (now Comer) Children's Hospital with activating his passion for healthcare administration. "I really enjoyed the program," he says, "and admired my chief residents…I really felt like I could tackle both the clinical and administrative tasks required to be chief."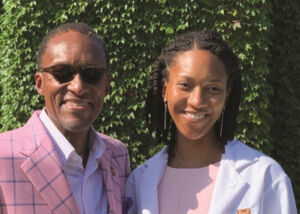 In 1996—the year Leslie was born—Peter became the full-time medical director of the Physician Hospital Organization at Gottlieb Memorial Hospital, now a part of the Loyola University system. "After about two years," he says, "I had the itch to get back into clinical practice. I went back to practice at a community health center in Roseland, where I have been seeing patients ever since, every third Saturday of the month." Braiding community medicine and healthcare administration took a new turn when, in 2010, Peter accepted a position at Cigna, where he's worked ever since. Today, as medical officer, he manages a nationwide team of physician-executives that work with numerous healthcare systems, including UCMC.
Leslie has forged her own distinct path to medicine, one begun in the dance classrooms of her childhood—and she credits her commitment to the city of Chicago and its communities, both medical and personal, with leading her to Pritzker. While learning to dance, she says, "seeing friends of mine get a sprained ankle and then having to take weeks off to have that heal—that's what got me interested in medicine." From there, an undergraduate program at Brown University that blended the arts and STEM gave Leslie the opportunity to teach a dance class to patients with Parkinson's Disease. "That was really transformative," she notes: "to see people go through an alternative process of healing and know that medicine encompassed so many things that wasn't just surgery, wasn't just seeing patients in the clinic."
Hoping to return to Chicago, Leslie applied for Pritzker's Chicago Academic Medicine Program during her college summers and attributes the early mentorship she received there with attracting her to the school. "Pritzker won over my heart," she says, "for its commitment to diversity and for teaching," as well as its connection to Chicago. "To serve the same community that had raised me," she says, "that's really important as well." While she's still considering the next stop on her training path, she notes a budding interest in women's health and the possibility of becoming an OB/GYN after graduation.
This historic, three-generational connection to the University of Chicago bears special importance for both McCauleys, especially as the pair reflects on the way Pritzker has changed over the past thirty years in its recruitment and retention of Black students. "When I was in medical school, my class had three African American students," notes Peter. In contrast, Leslie says, "there are 19 Black students in my class—which is great—and overall the diversity in so many different domains has increased a lot at Pritzker." What hasn't changed, according to both McCauleys, is the close-knit friendships fostered by those classmates. "The difference is the numbers," Peter says—"but the consistency is the community."
Originally printed in the Fall 2020 Residents at the Forefront newsletter
If you would like to support Graduate Medical Education initiatives, you can make a gift online or contact Kelli Austin Clarkson at 773.834.7218 or kclarkson@mbsd.uchicago.edu.