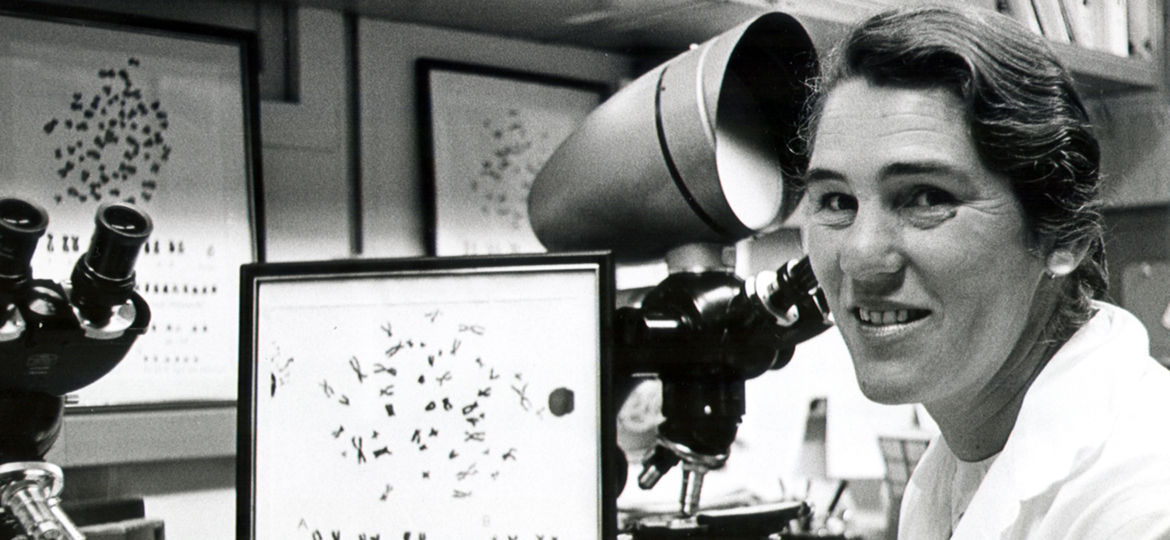 A pioneer in connecting the development of cancer with genetic abnormalities, Janet D. Rowley, MD, the Blum-Riese Distinguished Service Professor of Medicine, Molecular Genetics & Cell Biology and Human Genetics at the University of Chicago, died from complications of ovarian cancer on December, 17, 2013, at her home. She was 88.
Rowley's discoveries changed the way cancer was understood, opened the door to development of drugs directed at the cancer-specific genetic abnormalities and created a model that still drives cancer research.
She also had an impact on the relationship between medical research and public policy. President Jimmy Carter appointed her to the National Cancer Advisory Board (1979-1984). President Bill Clinton awarded her the National Medal of Science (1998). From 2002 to 2009, she served on George W. Bush's President's Council on Bioethics. In 2009, she stood next to President Barack Obama when he lifted the federal moratorium on funding for stem cell research and she returned to the Obama White House later that year to accept the Presidential Medal of Freedom.
She rose quickly through the ranks at the University of Chicago, rising from research associate (assistant professor) in 1962 to associate professor in 1969, professor in 1977 and distinguished service professor in 1984.
The awards began in the early 1980s, including the Lasker Award and the National Medal of Science, the nation's highest scientific honor, in 1998; the Presidential Medal of Freedom, America's highest civilian honor, in 2009; a Lifetime Achievement Award from the American Association for Cancer Research in 2010; the Japan Prize for Healthcare and Medical Technology in 2012; and the Albany Medical Center Prize in 2013. She has received honorary doctor of science degrees from 14 institutions, including Oxford, Harvard University, Yale University, the University of Pennsylvania and Dartmouth College.
Rowley, who continued to bicycle daily from her Hyde Park home to her laboratory in her late 80s, routinely advised young investigators not to give up.
Her husband, Donald, died in 2013. She is survived by three of their four sons, David, Robert and Roger, and grandchildren Jason, Jenny, Gia, Anra and Ian.
To read more about the life and legacy of Janet Rowley, click here.