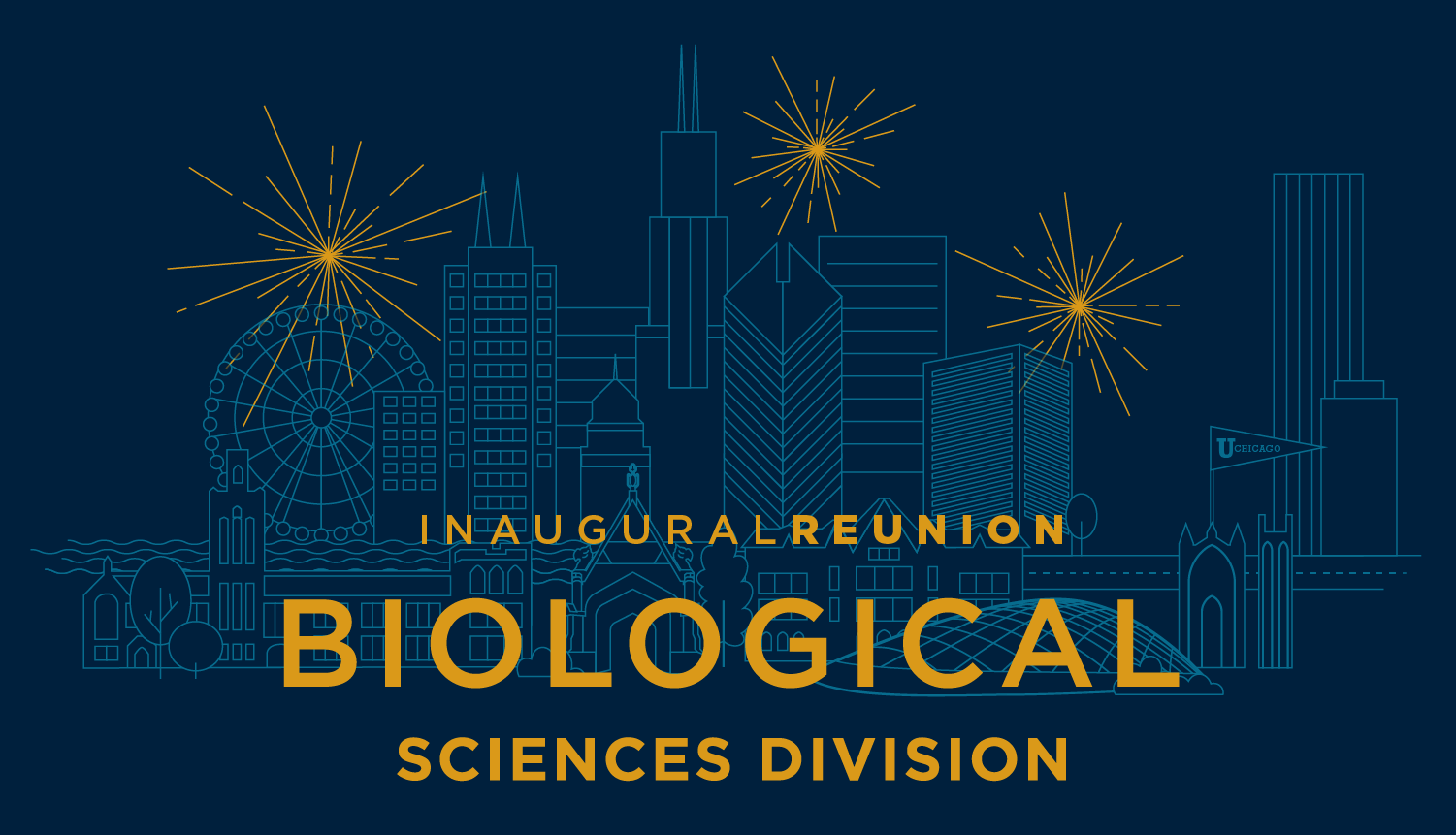 Let's celebrate at your BSD Reunion!
We hope you'll join us in Chicago and on campus for engaging programs and fun opportunities to socialize and connect with your fellow BSD alumni and current graduate students.
ALUMNI SENATE MEETING
Gleacher Center, 450 North Cityfront Plaza Drive
Hear from Kenneth Polonsky, MD, EVP for Medical Affairs and Dean of the Division of the Biological Sciences and the Pritzker School of Medicine, and the Alumni Council's Executive Committee at the annual meeting of the UChicago MBSAA. (For members of the Alumni Council).
BSD ALUMNI NIGHT OUT
Pinstripes, 435 East Illinois Street
Enjoy an evening of networking, fun, food, and drinks with fellow BSD alumni and their families at Pinstripes in Chicago's Streeterville neighborhood.
REUNION HEADQUARTERS
Gwen and Jules Knapp Center for Biomedical Discovery, 900 East 57th Street
Speak with UChicago MBSAA staff, grab a snack, or catch the Reunion shuttle.
WELCOME BREAKFAST WITH DEAN PRINCE
Quadrangle Club, 1155 East 57th Street
Start your day with breakfast and mingling with BSD alumni and hear from Victoria Prince, PhD, dean and director of Graduate Affairs at the Division of the Biological Sciences (BSD).
LIGHTNING TALKS
Gwen and Jules Knapp Center for Biomedical Discovery, 900 East 57th Street
Lightning Talks are mini-lectures that provide a glimpse into the dynamic research and innovative work of our faculty and alumni. Hear from Allison August, MD'93, vice president, Medical Affairs, Infectious Diseases, Moderna, who oversees clinical trials for Moderna including for their COVID-19 vaccine and their recent HIV vaccine, and Mark Mimee, PhD, assistant professor, Department of Microbiology and the Pritzker School of Molecular Engineering, University of Chicago, who is developing strategies to precisely engineer the activity and composition of the microbiota.
UCHICAGO MBSAA ALUMNI AWARDS LUNCHEON
Gordon Center for Integrative Science, 929 East 57th Street
Enjoy lunch as a group of fellow alumni receive the UChicago MBSAA's highest honors—the Distinguished Alumni Award and Alumni Service Award.
STUDY BREAK WITH STUDENTS
North Science Quad, 924 East 57th Street
Head to the North Sciences Quad for lawn games, the Reunion photo booth, dessert and coffee while connecting with students, alumni, and your families.
BIOSCIENCES CAMPUS WALKING TOUR
North Science Quad, 924 East 57th Street
Discover the new and revisit the old areas of the medical and biosciences campus during this one-hour walking tour.
DINNER WITH INCOMING DEAN KOVAR
River Roast, 315 North LaSalle Street
Meet David R. Kovar, PhD, the incoming dean for graduate affairs for the Biological Sciences Division while having dinner with some of your favorite faculty.
UCHICAGO ALUMNI WEEKEND
The UChicago Alumni Association brings the events of UChicago Alumni Weekend to you May 19–22.
Learn more and register >>
Updated as of February 24, 2022
We are committed to providing a safe and celebratory Reunion Weekend. Please note that while we are planning to have Reunion in-person and on-campus, we may need to shift plans if deemed necessary. With these uncertain times, University of Chicago and City of Chicago policies and guidelines are continually changing. We will update the policies for participating in Reunion as these guidelines change.  At this time,
Proof of vaccination, a negative COVID-19 test taken within 72 hours before the event, or a positive COVID-19 test dated 14–90 days prior to the event is required to participate in Reunion activities.
Per current University guidelines, masks will be optional in most non-medical campus spaces.
This convening is open to all invitees who are compliant with UChicago vaccination requirements and, because of ongoing health risks, particularly to the unvaccinated, participants are expected to adopt the risk mitigation measures (masking and social distancing, etc.) appropriate to their vaccination status as advised by public health officials or to their individual vulnerabilities as advised by a medical professional. Public convening may not be safe for all and carries a risk for contracting COVID-19, particularly for those unvaccinated. Participants will not know the vaccination status of others and should follow appropriate risk mitigation measures.
When will the inaugural 2022 BSD Reunion take place?
The 2022 BSD Reunion will take place on May 20-May 21, 2022.
Will the 2022 BSD Reunion be in-person?
Yes, 2022 BSD Reunion events from May 20-May 21, 2022 will happen in various locations on campus and downtown Chicago.
Is the BSD Reunion family friendly?
Yes, there are several BSD Reunion events, including the BSD Alumni Night Out at Pinstripes, Study Break with Students at the North Sciences Quad outside the Donnelley Biological Sciences Learning Center, and the BioSciences Campus Walking Tour, that will appeal to families.
Is there a fee to attend the 2022 BSD Reunion?
Yes, there will be a fee to attend the 2022 BSD Reunion. Check back on March 1 for more details.
Can accommodations be made if I have special requests or needs?
The majority of BSD Reunion events are accessible. Please specify any special needs (such as dietary requirements or handicap accessibility needs) when you register. To ensure special accommodations, please call UChicago MBSAA staff at (888) 303-0030 by Friday, May 13, 2022.
What transportation is available to campus for various events?
A complimentary shuttle will be available between the BSD Reunion hotel and Saturday events. Check back at a later date for details.
What if I plan to drive to campus for BSD Reunion activities?
Garage parking is available at 5656 South Maryland Avenue (UCM Parking Lot B). Parking validation will be available at Reunion Headquarters on Saturday, May 20.
Is there a deadline to register?
Please register by Friday, May 13, 2022.
How do I make a gift to support the BSD?
You can make a gift online, by phone at 1.888.UCHICAGO (1.888.824.4224), or by mailing a check payable to "The University of Chicago" to the following address:
Office Gift Administration and Business Data
ATTN: Medicine & Biological Sciences
5235 S. Harper Court
4th Floor
Chicago, IL 60615
Where will I find updates about the BSD Reunion weekend?
The majority of updates will be sent via email. You will also find updates on the BSD Reunion page or by following @UChicagoMBSAA on Facebook and Twitter.
How will I know who has registered for the 2022 BSD Reunion events?
You can view a list of attendees on the BSD Reunion registration page.
How do I update my contact information?
To update the mailing and/or email address where you receive communications from the UChicago MBSAA, including Reunion updates, please complete the UChicago MBSAA's Alumni Update form.
Will there be photos taken during BSD Reunion events?
Yes, all BSD events will be digitally recorded and/or photographed. By attending you acknowledge and agree to grant the University of Chicago and the Medical & Biological Sciences & Alumni Association the right to digitally record, film, photograph, or capture your likeness in any media now available or hereafter developed and to distribute, broadcast, use or otherwise disseminate such media in perpetuity without any further approval from your or any payment. The select photographs will be available after BSD Reunion on the UChicago MBSAA Flickr site.